The final group journal entry of 2012. Q did a great job summing up how we all felt.
Trip: Colorado Rocky Mountain '12
Date: July 20th, 2012
Written by Q
Today was it – the last day of the first year of Lillard Fly Fishing Expeditions. These past two weeks have just flown by, from the beginning in the relatively slow, but still incredible, fishing on the Cochetopa, to the cutthroats averaging 15 inches in the alpine lakes of Pine Creek. We have all seen planes covered in small shrubs with wild elk and marmot running about. We have hiked through fields of wildflowers to the base of towering 14,00 foot Mountains, which proved to be steep climbing, especially in the early dawn hours of Colorado. As for today, we started early and set out for the famous Gunnison River.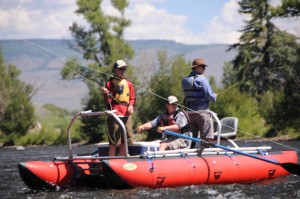 Davis and Quintin fishing the Gunnison from Will's fishing raft" />
It was to be the culmination of an already great fishing trip. We went out with local guides, Moose, Jason, Joey, and Guide Master Will Lillard. We had a successful day. The river was at a record low and is a bit warm for the normally great fishing on the Gunnison at this time of year. Even with the low water we all had a great time and caught a lot of fish.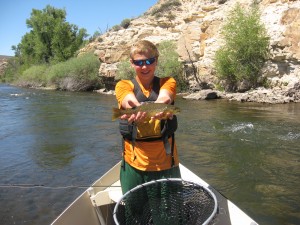 With the help of expert guides, we were able to catch fish (like this nice one Dylan caught from the front of Jason White's drift boat) despite record low water levels." />
After our float down the Gunnison, we had a quick lunch. Some of us rode rapids for a little bit and then we all returned to the Almont campsite. Here we packed for our return trip and organized the camp a bit. Next, a couple of us fished the stretch of the Gunnison near the camp, and later we all went fishing on the Slate River. At around 6 o'clock we returned to the town of Crested Butte for our end of session banquet. We all had delicious steaks and went to the Third Bowl for some ice cream.
It is now 10:04 on Friday night and we are all sitting in the van back at camp looking at photos of the past two weeks. I do not think that I have been able to write more than two lines at a time because I am constantly looking over at Will's computer to see more of the pictures we all took and to relive the great memories.
It is in these reflections that I am able to realize what I have seen and what I have learned. This place is almost incomprehensibly amazing. A place where fish were so brilliantly colored that I had literally never imagined they could exist and with mountains that touched the sky and exceeded the reach of even the high alpine trees. Altogether, this created a wonderful trip and the experience of a lifetime!
Q