Our West Elk Expedition is back from our final backcountry. After four nights of backpacking and camping along Pine Creek we have a lot of great stories to tell.
On the first day of our trip our group showed there true strength as they made the 6 mile hike up and over the Colorado Trail to the first of a series of four meadows. With the help of pack horses that carried some of our gear. We made it to our campsite in just under 4 hours.  After a quick bite to eat and setting up our camp we hit the river. Everybody was impressed in the quantity of brook trout willing to rise to their dry flies.
The next day we packed up camp and headed even further up Pine Creek. After a much shorter hike we were above a big waterfall. From that point on we caught nothing but beautiful native Cutthroat trout. We hiked two miles above the falls to a perfect campsite that allowed us easy access to the stream, a series of beaver ponds, two alpine lakes, and the trail to the top of three 14,000ft mountains.
Early on our third morning 8 participants and Charlie and I made woke up at 3 am to embark on an epic adventure in search of what we had dubbed the Pine Creek Triple Crown. The goal was to climb a 14,000ft mountain, catch a 15 inch cutthroat trout from the high alpine lakes, and catch a rare arctic grayling from a lake above 12,000 ft. Everybody in the group submitted mount Belford by 8 am and we were on pace for a successful mission. We met the rest of our group at the high alpine lakes around 10 am and within minutes several of the participants had caught there 14 inch cutthroat. The grayling proved to be a bit more of a challenge. Despite their picky eating James, Hall, and Hudson all reached their goal. The rest of the group "settled" for the 14-20 inch cutthroat that were constantly rising to our flies.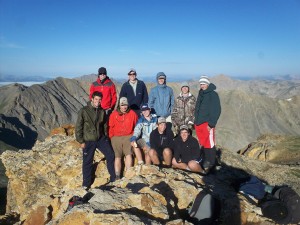 Congratulations to the 8 students who successfully climbed the 14,000ft Mount Belford." />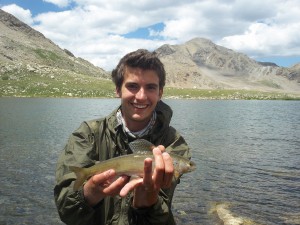 Hudson with his first Grayling and the second leg of his triple crown." />
The next day we made one more hike up to the high alpine lakes where we caught some more cutthroat and arctic grayling before moving our camp back down the valley in preparation for the next days exit from the backcountry.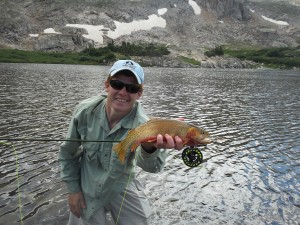 Hall with a colorful Cutthroat from one of the high alpine lakes." />
We are sad that the backcountry is behind us but we are all looking forward to the final few days of what has been an awesome trip. Tomorrow we will get ready for our Wednesday float fishing trip on the Arkansas and banquet dinner. We will be sure to update you all on how it went after everybody has boarded their plane on Thursday morning.