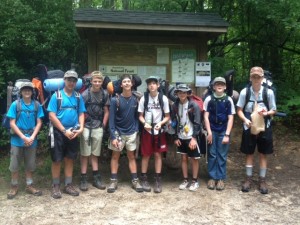 Our group ready to hit the trail." />
We're back! We spent the last two nights in the backcountry of Panthertown Valley in search of wild brook trout. The three mile hike was well worth the effort. We set up our camp at the base of a waterfall. From our camp we had a short hike to some of the best fishing on the river. Everybody in the group caught some of the small but beautiful native Southern Appalachian Brook trout.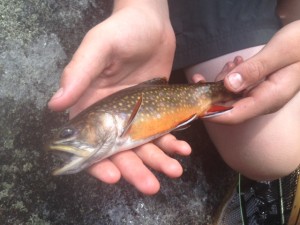 Andrew caught this beautiful native Brook Trout." />
As I write we are doing some laundry in preparation for the second half of the adventure. Tonight we will fish the catch and release section of the Davidson with the hope of catching some huge Brown and Rainbow Trout. Tomorrow we will volunteer with the local Trout Unlimited chapter helping to clean up campsites along the headwaters of the Davidson River.
The group is already looking forward to getting back into the backcountry on Saturday morning. We will send out another update on Saturday morning.
Tight Lines!