Well, we just certainly had one of the most epic beginnings to any trip in recent memory.  After leaving DIA, we drove to Buena vista for our first night.  The action really got started on our second day.  We picked up our supplies in Gunnison and headed south.  Once we reached our campsite, we quickly set up our tents and immediately got to fishing.  Despite the creek being somewhat blown out from a recent rain shower, the guys were hooking into fish right away.  We kept up the fishing right till our dinner of chicken burritos.  After dinner we turned in, eager for what our first day in the backcountry could bring.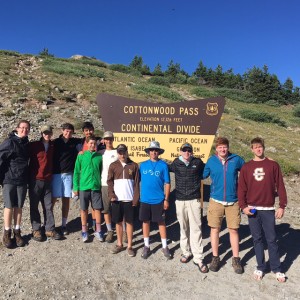 In the morning we had a hearty pancake and sausage breakfast to fuel up for our hike for the day.  From our campsite we shouldered our packs and struck out on a roughly four Mike hike down an almost unknown canyon in the high desert scrubland.  After several hours of hiking along a beautiful trout stream, we reached our campsite, set up shop, and immediately hit the water.  The fishing was simply great.  In no time we were hooking into plentiful brown trout with a smattering of rainbow trout to boot.  Later in the evening we encountered what most fly anglers dream of… Salmon flies.  Salmon flies are the largest variety of stonefly and are about the size of your pinky finger.  The fish go absolutely bonkers for these tasty treats and eagerly gobble up anything that even remotely resembles this insect.  From that moment, I knew we were in for a special time.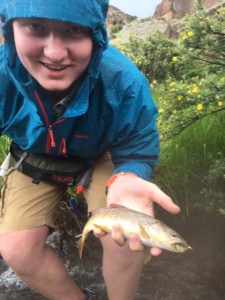 The next morning we split into two groups.  One group stayed in the vicinity of camp to fish, while another group hiked several more mi les down the canyon.  Again, we were treated to an epic stonefly and salmon fly hatch.  The fishing was absolutely out of control good, with most guys reporting double digit fish counts.  Not only was the fishing epic, but the scenery in the narrow confines of the canyon was spectacular.  After a long day of fishing, the two groups reconvened at camp to feast upon the LFFE favorite meal of backcountry burritos.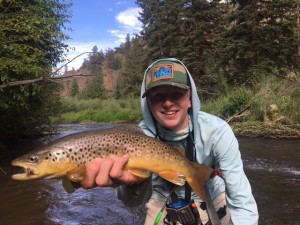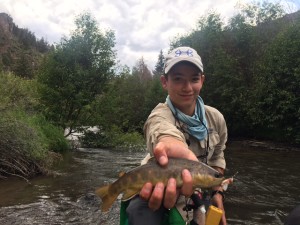 On our third day in the backcountry, the whole group set out to hike down the canyon in search of more fish.  After several miles, we split up again, with about half the group heading down a draw to the floor of the canyon to fish back up to camp.  The other half continued hiking along the rim of the canyon a few more miles downstream before they too dropped down to stream.  Once again, it seemed as if it was snowing stoneflies, and once again the fish were in an absolute feeding frenzy.  Many more brown trout, some rainbows, and even s few cutthroats and brook trout were fooled by our flies.  Everyone on the trip managed to catch double digit numbers of trout, bringing our total well into the hundreds.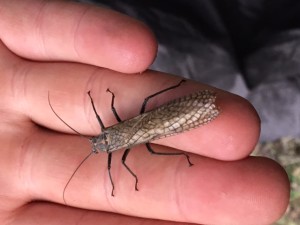 Today we hiked out of the canyon and made our way back to Gunnison to shower, do laundry, and resupply.  For the next few days we will be doing our service project along Tomichi creek with Trout Unlimited and the Cold Harbor Institute.  Be on the lookout for our next update on the 29th before we begin our second backcountry section into the Collegiate Peaks Wilderness.  And until then…
Tight lines! Charlie Parr