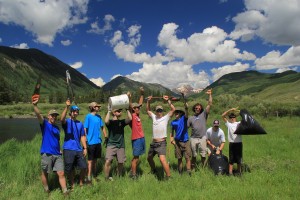 The gang working on our service project along the Slate River" />
Hello again from the Colorado Rockies! We just wrapped up our second day of service and are preparing to head into the backcountry once again. It sure has been a rewarding several days here in Colorado. Three days ago we started our first service project right outside Crested Butte on the Slate River. We were helping out the Crested Butte Land Trust, a non-profit organization dedicated to preserving, protecting, and maintaining open space around the Town of Crested Butte and among the surrounding mountains. Our work entailed planting willow bundles and willows along the banks of the Slate River in order to prevent stream bank erosion as well as provide habitat for insects upon which the trout love to feed. We also helped out by weeding invasive plant species to help ensure that the natural habitat remains pristine. All in all, hard work, but that just made the homemade ice cream at the end that much more enjoyable.
Next, we headed up the Taylor Canyon and along the Taylor River up into the Taylor Park for our next service project. For our day of rest between projects we fished the waters of Illinois Creek nestled against the western slope of the Collegiate mountain range. The guys managed to nab some beautiful wild Browns as well as a few nice stocked rainbows in the 14-16 inch range. After a great dinner and better sunset it was off to bed early to get ready for a hard days work along Illinois Creek.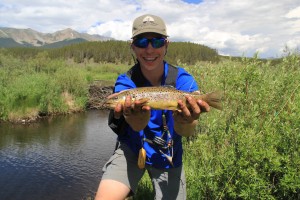 Ethan and a nice wild brown" />
Our service project today entailed more stream restoration. We helped to destroy some pesky beaver ponds, which impede fish growth and migration. We also did quite a bit of streamscaping; making the stream better for trout and fishermen alike. This involves building pools for trout, shoring up eroding banks, and cutting down willows that inhibit good casting. Needless to say, it is hard physical labor, but labor that is well worth it as it improves the overall fishing experience of the stream.
Next up is our eagerly awaited backcountry trip into the Pine Creek drainage. We will be hiking along the magnificent trout stream of Pine Creek for about 13 miles until we reach our final destination, the Missouri Basin. Surrounded by five 14,000-foot peaks, the views are breathtaking, and are only outdone by the quality of the fishing. In the lakes tucked away under these peaks we will hopefully be hooking into massive 20 + inch cutthroats in addition to the extremely rare Arctic Grayling. We will be hiking out of Pine Creek on the 13th, so look for our next update and photos then. Wish us luck and tight Lines!
Charlie Parr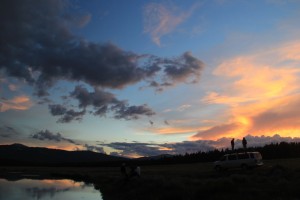 Sunset over the Taylor Park" />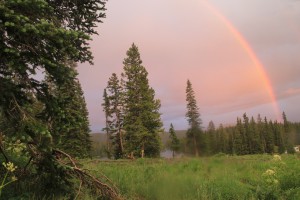 Rainbow over the West Elks and Lake Irwin" />