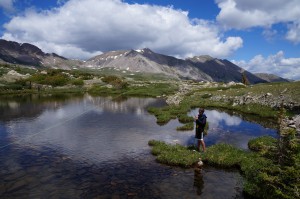 Boy is it good to be back into civilization after five great days on the trail! We hiked out of the wilderness this afternoon and are looking forward to enjoying the comforts of the front country for the next few days before heading home. The trip up into the high country was an absolute success. I am very proud to report that for the first time in LFFE history every single member of the trip completed the coveted LFFE Triple Crown. For those of you not in the know, the Triple Crown consists of summiting a 14er (14,000 ft mountain), catching a 15-inch cutthroat, and landing an Arctic Grayling! Every single guy on the trip achieved this feat, with many of the guys completing the fishing portion of The Crown multiple times!
With the help of pack horses carried some of our heavier supplies our first day of hiking up the creek saw us complete the 7-mile hike in great time.  Most of the guys were able to hit up the creek for plentiful brook trout before an afternoon thunderstorm forced us to retire to our tents for a much-needed nap.  After the storm abated, we were able to enjoy a great sunset with dinner and were even able to enjoy some fresh brook from the overpopulated beaver ponds near our camp.
Day two saw us move to the high alpine where the action was really good.  We camped just below tree line along the upper portion of the creek, which is home to numerous, but small, Cutthroats.  We spent all day catching these magnificent fish, with some of the guys' numbers nearing 100 fish caught on the day!  After enjoying a superb meal of chicken fettuccine alfredo we hit the hay early in anticipation of our summit attempt of a nearby 14er.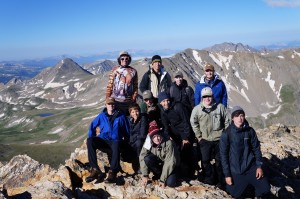 Looking good at 14,000 ft" />
Waking up at 3:00 am at 11,500 ft is no easy task.  It is very cold outside (near freezing) and the sleeping bag is so warm!  But, with hot oatmeal and a healthy dose of excitement, we managed to crawl out of our tents and prepare for our biggest day.  The hike started out at 4:30 am and saw us climb out of the trees and reach the high alpine for a glorious Colorado sunrise.  I'm happy to report that this crew are all excellent hikers and we managed to summit in great time; 4 hours on the dot.  The feeling of being on top of such a high mountain before most people have woken up and gone to work is nearly indescribable.  We did not hesitate on the summit for too long, because we knew what awaited us elsewhere:  monster cutthroats eager to rise to the fly.  So we headed off across a large alpine basin to the lakes we had been eyeing since before reaching the summit.  Once we reached the lakes we settled down for lunch and fishing.  Needless to say, we were not disappointed!  We hit the first lake at about 12:30 pm and for the next 4 hours we were absolutely killing it.  Monster fish after monster fish kept crushing our flies!  These are some of the finest trout I have ever seen, and will no doubt haunt the dreams of these fine fishermen for years to come, if not for life!  After such a long day we headed back to camp for an early dinner and an early bedtime.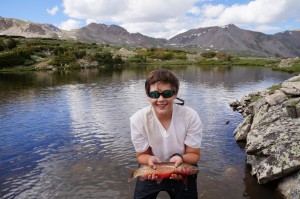 Stephen's fine Cutthroat caught on a dry fly" />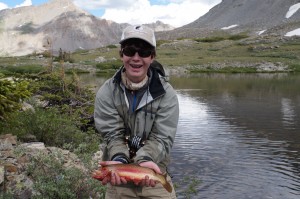 Jackson, obviosly pleased with his catch" />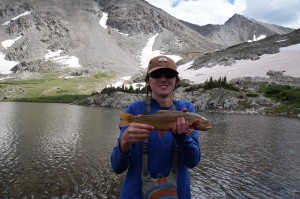 Bolling and a great example of one of these high alpine cuts" />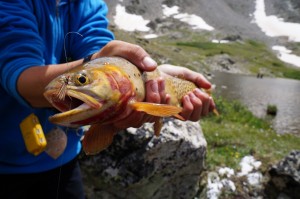 A close-up of Ethan's trout" />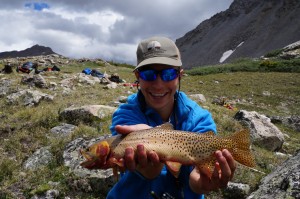 Ethan and one of his many cutthroats" />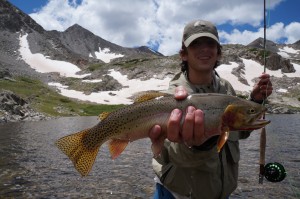 Robert showing off a huge cutthroat" />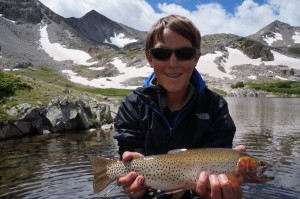 Another of the cutthroats we pulled out of the lake, good job Teddy!" />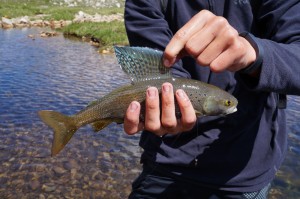 Close up of Patrick's great Arctic Grayling" />
The next morning we got a considerably later start on our way up to an even higher and more isolated lake, which lies high near 13,00 ft.  After the arduous climb up to the lake we immediately set about fishing.  It was not long before we were rewarded with our first call of "Fish on!"  Sure enough, it was the elusive Arctic Grayling, a fish that is extremely rare here in Colorado. Lucky for us, fortune was shining and the lake was absolutely on fire!  Everybody was hauling in grayling and cutthroats so fast that I could barely keep up with running around the lake to snap photos!  An early afternoon thunderstorm forced us down to camp where we packed up and began the long hike out which culminated today.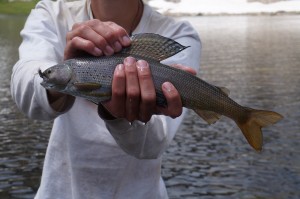 Look at the dorsal fin on this fish!" />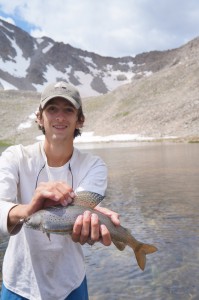 Robert showing off his 14-inch Arctic Grayling" />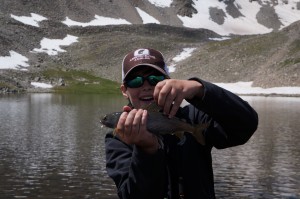 Stephen's Grayling caught at 12,750 feet" />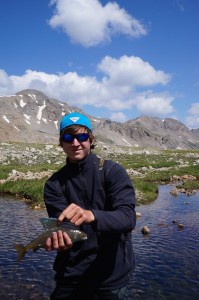 Patrick showing of his Arctic Grayling" />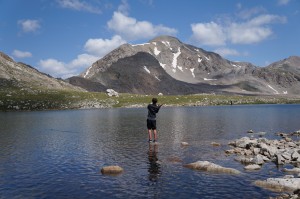 Teddy making it look easy" />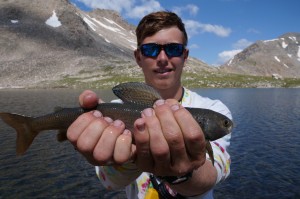 Jones and his first Grayling" />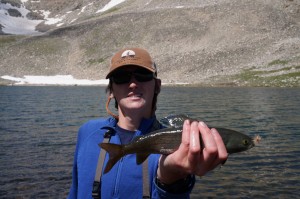 Bolling, showing off one of many" />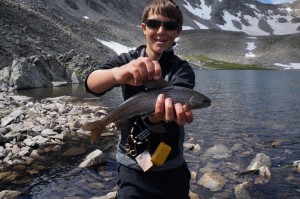 Fish-slayer Teddy getting it done again!" />
Overall it was a great excursion.  Over 30 miles of hiking, one 14er, and countless trout landed sure make for an awesome trip.  I think the only thing that could possibly top it is our day of float fishing the Arkansas River coming up Monday.  In the meantime we will be taking a day to rest and recuperate, re-supply, and clean up before we hit the river in search of more trophy fish.  Look for the next update on Monday, and in the meantime enjoy these awesome photos from the Pine Creek Backcountry.  Tight Lines!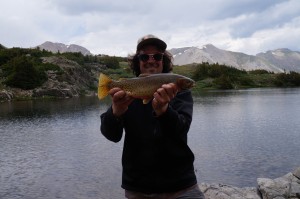 Charlie Parr