It is hard to believe that our 18 day West Elk Adventure has come to an end. After 15 days of backcountry fishing and meals cooked over the camp stove we ended the trip with some float fishing and a delicious banquet dinner.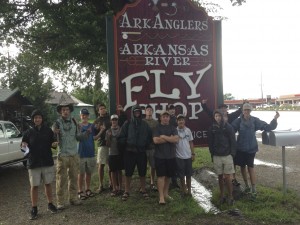 Everybody was ready to catch a trout "this big" on the Arkansas!" />
We woke up early on the last day of our trip to meet our guides at Ark Anglers in Salida Colorado. We met our guides and were all geared up and ready to go by 8 am. After a brief meeting to go over the game plan the group broke up into pairs and spread out with their guides. Each group floated down a different section of the river, helping maximize our success. Everybody in the group landed some good fish but the biggest of the day went to Ethan with a monstrous 19″ brown trout. Our float ended at the perfect time as a hail storm broke out just as the boats started pulling back into parking lot.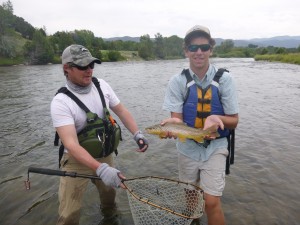 Ethan and his guide from Ark Anglers with the fish of the day. A mature 19″ Arkansas River Brown Trout." />
We followed our float with some lunch in a local park before we hopped back in the van and started making our way toward Denver for the next days departure. We stopped for the night in Silverthorne, CO. After setting up our tents for the last time we headed into town to swim and get showered up before our banquet dinner.
After hitting the water slides, sauna, and pool we walked to our banquet at The Historic Mint in downtown Silverthorne. The group filled up on an unlimited salad bar, a self cooked NY strip steak, and fries while we reminisced about all the great fish we caught and friend/memories we made.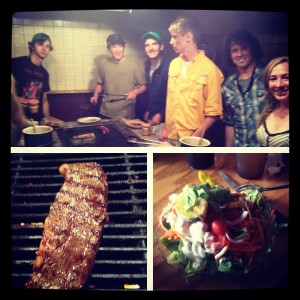 Cooking our own NY Strips and feasting on the salad bar at The Historic Mint in Silverthorne, CO." />
Another trip has flown by faster than we could have imagined. What is even more surprising is how fast the summer of 2013 is flying by! Take a look at all the pictures from the 2013 West Elk Adventure here We can't wait for our Rocky Mountain Explorer to get going in 5 days, but can't believe it will be the final trip of the summer. Make sure you check back to see all the great fishing, service projects, and scenery from what is sure to be another great adventure.