Greetings from NC,
Our crew of anglers hiked out of the backcountry today after 2 days and 2 nights of chasing native Southern Appalachian Brook Trout. We were up early this morning in anticipation of an afternoon spent stalking monster trout on a private section of the West Fork of the French Broad River. The fishing over the last few days has been phenomenal to say the least.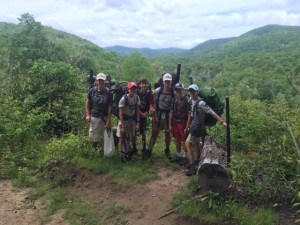 Watch out Brook Trout Here We Come." />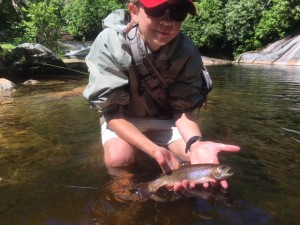 Will with a beautiful Southern Appalachian Brook Trout." />
After a quick hike that followed a small stream past several waterfalls, we set up camp along a prime section of brook trout water.  Once we had set up camp and eaten a frantic lunch, the group rushed to the water. The catching followed quickly, and continued until the sun set on our final night in the backcountry. Everyone in our group can proudly say they have caught one of the most beautiful species of fish in a pristine wilderness area. After some pita pizzas, we sat around the campfire and retold stories of eager brook trout, and shared our excitement about the amazing fishing that would follow during the final few days of our trip.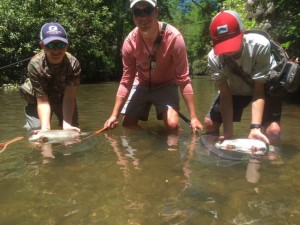 Catching trophies two at a time." />
Sleeping in on our final morning in the backcountry was not an option for this group of eager fisherman. We ate a quick breakfast and rushed to break down camp, and we were on the trail by 9am. Our efforts were well worth it! The private water fished better than I have ever seen it, and everyone in our group caught a huge trout over 16" with several 18" plus fish being landed.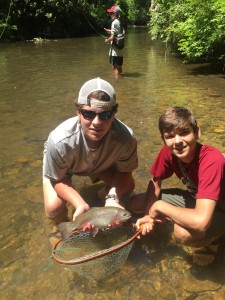 Well worth an early morning wake up call!" />
The weather continues to be remarkably beautiful, and it has been days since we have seen a cloud, yet alone rain. I was worried the low water might slow down the fishing, but my worries were not warranted. Hopefully the same holds true for our last few days. Tomorrow we wake up early once again to join guides from Davidson River Outfitters on their private section of the Davidson River. Needless to say were are all excited for the last few days, but sad the trip is coming to an end.