This morning we paddled our canoes out of the backcountry for the last time. It is hard to believe, but our first ever Maine Woods Adventure is coming to an end.
On Thursday morning we loaded up our canoes and ventured out for three nights of backcountry camping. The sun was shining but the wind was blowing hard in our faces. After paddling across Indian Pond we set up our camp at the junction of the East and West Outlets of the Kennebec River. A quick lunch fueled us up for an afternoon of fishing on the pond. The wind made the fishing a little challenging, but by dinner time we had caught several smallmouth up to about 1.5lbs. We spotted a bunch of much bigger fish, but we could not get any of them to eat…yet.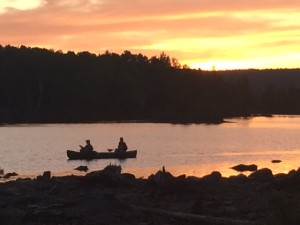 Paddling back to camp as the sun sets in the distance." />
Friday morning we woke up to absolutely perfect weather. The sun was shining, there was not a cloud in the sky, and the wind had settled down. After breakfast we paddled back across the pond to meet our shuttle driver. After loading up our canoes and a 30 minute drive we were ready to paddle down the West Outlet of the Kennebec River. It didn't take long before we realized we were in for an awesome day of fly fishing.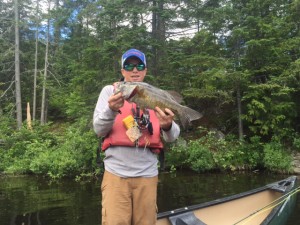 When Tyler caught this beauty on his first cast we knew it was going to be a good day!" />
Within the first few minutes we had caught several smallmouth, including one absolute monster. By lunch time we had all caught some smallmouth and a handful of large fish had been landed. We enjoyed lunch on the river bank and eagerly got back in our canoes. The amazing fishing kept up all the way through 5pm when the river carried us right back to our campsite. After some Fettuccini Alfredo we all sat around the campfire and reminisced about what an awesome day it had been.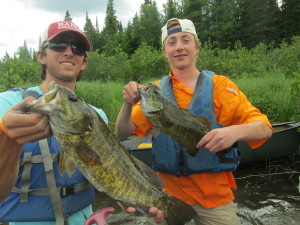 When you are catching fish like this two at a time it is a really good day!" />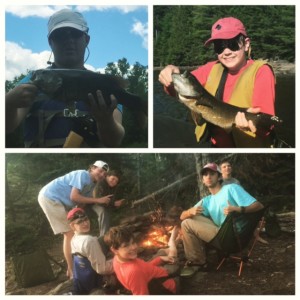 Sitting around the campfire reminiscing about an awesome day." />
Still tired from our long day on the West Outlet, we slept in until 8:30 on Saturday morning. We took full advantage of our slow morning and enjoyed bacon, sausage, and eggs before heading out on the days adventure. We paddled out of camp around 12pm and arrived at the mouth of the East Outlet by 1pm. From there we parked our canoes and followed a fishing trail up the river. We passed several guides in drift boats as we hiked up the river, all of which reported slow fishing due to the huge fluctuations of water released from the dam within the last couple of days. That didn't stop our group from catching fish. By the end of the day we had all caught some fish including some beautiful Brook Trout and Landlocked Salmon. We topped off an already great day by catching dozens of perch during our paddle back to camp, a delicious addition to our burritos.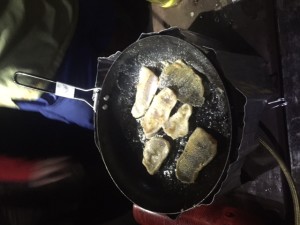 Frying up some fresh caught perch for our burritos." />
We could not have asked for better weather during our backcountry trip. Last night we went to bed to clear skies, but the rain finally returned this morning. We packed up camp in a slight drizzle and started our journey back across the pond to meet our shuttle. As we loaded our last canoes onto the trailer and hopped in the van, the rain really started to fall. The timing was perfect. Our plan for the remaining of the day was hamburgers at a local restaurant, hot showers, and laundry: perfect rainy day activities.
The weather should clear tomorrow for one last day of fishing on the Roach River before we head back down to MA for our banquet dinner. It is hard to believe that the trip is coming to an end, but it has been an awesome Adventure!