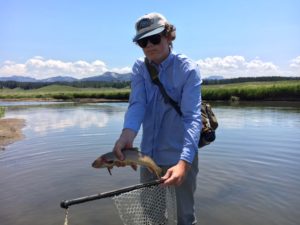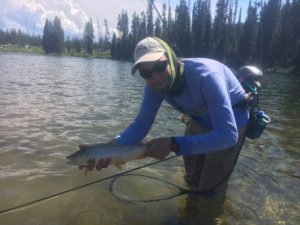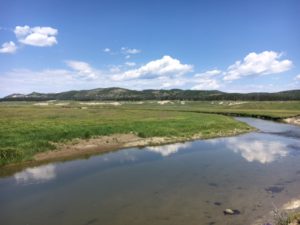 Howdy from Mammoth Campground!
Heavy rain in Idaho while we were in Jackson put the Bechler back over its banks. With a quick audible, we headed into the southeast entrance of the park to find some better conditions.
Luckily, most of the rivers in the park are in prime shape.
On Sunday we headed to the Lewis Lake campground and took a beautiful hike to the Lewis Channel. The wavy meadow grasses and snow capped mountains provided a stunning backdrop as we fished. While we only caught a few fish at Lewis, the ones that we did catch were big and fat.
The group also enjoyed exploring a new section of the park.
On Monday we packed a lunch and hiked up Pelican Creek. Again the scenery did not disappoint. We were greeted by a vast meadow dotted with grazing bison. We ate lunch on a river terrace overlooking the meandering river and then began fishing. Our experienced anglers were able to land rainbow and cutthroat trout. Late in the afternoon we hiked out of Pelican Creek, drove back to Lewis, and enjoyed a delicious meal. The group then walked down to a dock on Lewis Lake and watched the sunset, a fantastic ending to a great day in Yellowstone.
Today we drove to Mammoth campground and have been fishing the Gardener River. As of lunch time everyone has caught a fish. We are fortunate to have a great group of kids and look forward to some great fishing.
Tight Lines,
Edward, Cal, Max, and Crew