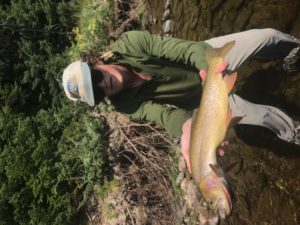 The Yellowstone Expedition got off to an early start on Sunday morning as we broke down camp at Gros Ventre campground, just outside of Jackson Hole. From there we headed straight for Yellowstone National Park. Along the way we passed the magnificent Teton Mountains and the scenic Snake river. Once inside Yellowstone we went to the backcountry office. There we watched a video on bear safety in the backcountry and everyone got fishing licenses. Then after a quick lunch hit the Snake River behind the backcountry office. It didn't take long for everyone to get into fish, including some very nice brown trout. The good fishing got everyone excited for the following days we would spend in the backcountry on the upper Snake River. After the afternoon of fishing we headed back to Lizard Creek Campground to prep our packs for the backcountry. With our packs all ready, we enjoyed s'mores by the campfire before going to bed.
For our first backcountry we hiked about 5 miles up the snake river to get into some less pressured water. After the relatively flat hike we quickly set up camp and headed out to fish. Right out from camp we started hooking into fish. For the next two days we fished up and down from camp. Everyone caught plenty of fish including some very large browns and native Yellowstone Cutthroat Trout. Each night the river came alive with hatching bugs and rising trout, making for some excellent evening fishing. After dark we enjoyed the spectacular backcountry stars sitting next to the campfire.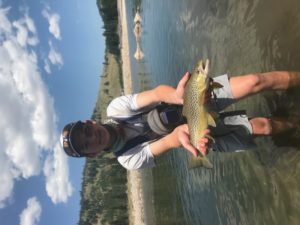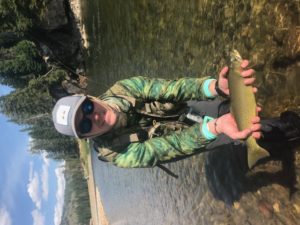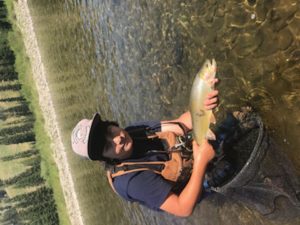 After fishing till lunch today we broke down camp in the backcountry and made the trek back to the van. From there we drove to our next campsite, which is along Yellowstone lake. With camp set up we drove to the lodge for much deserved showers. After showering we headed back to camp for a delicious dinner of burritos. We will spend the next two nights camping at Bridge Bay and fishing the upper Yellowstone river. The upper Yellowstone has some of largest fish in the park offering a chance at a fish of a lifetime!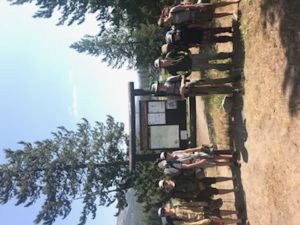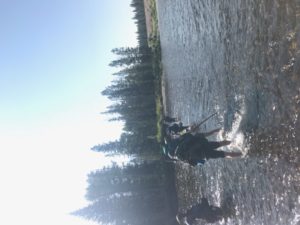 Pat & Connor