Greetings from Yellowstone National Park,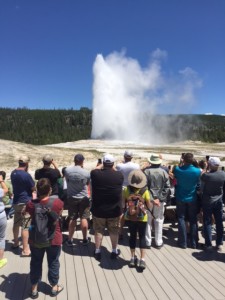 manditory Old Faithful stop" />
We exited the Grebe Lake backcountry yesterday, and our awesome group of young anglers fared very well in their first true Yellowstone backcountry experience. Despite some windy conditions on the lake, our entire group caught fish. Some of the fish caught were the first ever on a fly rod, which is a huge accomplishment.  Our group has already gotten so much better in the few short days we have been here.
Today we are in Gardiner, MT, to do some laundry and grocery shopping, then it's back to the water for the afternoon and evening. We will be spending the night at Tower Campground within the park, which parallels Tower Creek. Tower Creek then outlets into the longest undammed river in the United States: the Yellowstone River. It will no doubt be some incredible scenery to go along with incredible fishing.
We will spend the next two nights after Tower in the hallowed Lamar valley, known for its eager native trout. In the frontcountry, the Lamar offers exceptional fishing, but the backcountry fishing is unrivaled in its serenity and fast paced fishing. To say the least, our anxious group of young anglers can't wait to get back there.
We all wish that this trip would slow down, for Yellowstone is truly one of the most amazing wilderness areas left on the earth. It is some times hard to focus on fishing with all of the wildlife and dramatic scenery. We are looking forward to the upcoming days with our group of fishermen, and we will continue to update everyone!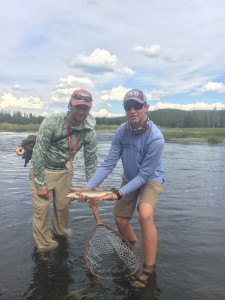 Tight Lines,
Robbie, Edward, Cal, and crew