It is hard to believe that our first Yellowstone Adventure of the summer is coming to an end. The last few days have been spent fishing the backcountry of the Lamar Valley. Today we will fish inside Yellowstone National Park one last time before we head back to Jackson for our service project, whitewater rafting, and a float fishing trip down the Snake River.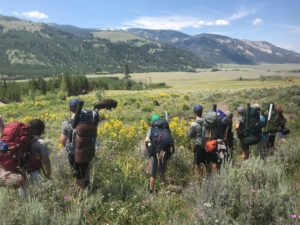 For our final backcountry trip our group split into two groups. One group made the mellow 3 mile hike into the confluence of Cache Creek and the Upper Lamar River in search of high numbers of fish. The other group made the longer and steeper hike into the second meadow of Slough Creek, known for its larger, but more challenging fish. To say the trips were a success would be an understatement. Both groups caught lots of fish, with most people getting up into the double digits for the two days. Slough Creek fished exceptionally well, and the group on Cache Creek managed to pull out an 18 inch fish out of the little stream. By far the largest I have ever seen out of that creek.
After exiting the backcountry yesterday we headed to Bridge Bay on Yellowstone Lake for some showers and laundry, but first we stopped to fish and swim in the Upper Yellowstone River. The Upper Yellowstone is home to some of the largest fish in the park. These fish come out of Yellowstone Lake to spawn, then hangout in the river for a few months. We hooked into some of these 20" plus fish, but were unable to get any into the net. I am pretty sure they will be haunting some of our dreams for quite some time.
Today we will fish the Upper Snake River before we head back to Jackson. The last few days of the trip are action packed. Tomorrow we have a service project with the Bridger Teton National Forest, and a whitewater rafting trip down the Snake River Canyon. We will cap of the trip with a float fishing trip on the Snake with guides from World Cast Anglers and a banquet dinner before everyone departs on the 29th.
Tight Lines,
Jack, Nate, Logan, and Crew