Howdy from Mammoth Campground!
Our trip has gotten off to a great start! On Tuesday we drove to Grant Village on the southern shore of Yellowstone Lake. After getting fishing permits and setting up camp, we had a quick casting lesson. Even those who had never fly fished before quickly picked up casting. After our casting lesson we headed to Old Faithful. The group enjoyed the sight of one of Yellowstone's most incredible geysers.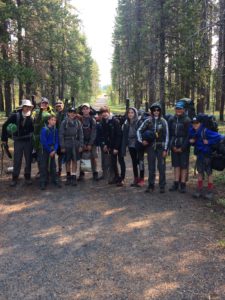 Ready to hit the trail!" />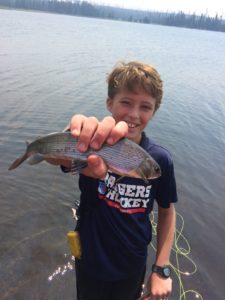 Native Grayling!" />
On Wednesday we hiked into the backcountry to fish Grebe Lake. Grebe Lake is one of the few places left in the park that have grayling, a silvery-gray ancestor of trout with beautiful purple stripes. Once we set up camp our anglers got to pulling out beautiful grayling and rainbow trout. Everyone caught fish as they rose voraciously for our dry flies. We ended the day with a campfire at our lakefront campsite and delicious backcountry burritos.
Yesterday we hiked out of the backcountry in the late morning after fishing after breakfast. We then drove to Mammoth Campground on the norther border of the park where we are staying for two nights. After eating dinner last night at the campground, we enjoyed a soothing soak in a hot spring on the Gardner river. Today we look forward to fishing the Gardner river after we do laundry in town. Flowing into Montana from the arid, northern region of the park, the Gardner should be flowing at a perfect level to fish. We are excited to catch cutthroat, brown, and rainbow trout on this magnificent river.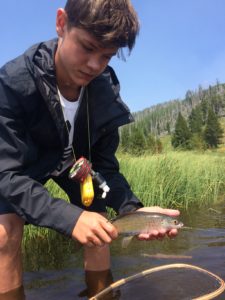 We are blessed to have a great group of kids and look forward to some great fishing.
Tight lines, Hudson, Max, Hammet, and Crew