For the last three nights our group has been camped out at Mammoth Hot Springs, and just a short walk from the Gardner River. Out timing was perfect as we enjoyed some of the best fishing I have ever seen on this river. Several fish over 16inches fell for our huge flies that imitated the hatching salmon flies.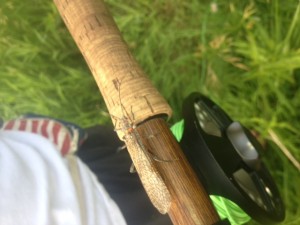 The salmon fly is the largest of stone flies and a favorite for trout. Luckily for us they were hatching consistently during our stay on the Gardner River." />
Like all front country rivers in Yellowstone though high fishing pressure makes for selective fish, so yesterday afternoon we also took a road trip to Obsidian Creek where some smaller brook trout were eager to rise to our flies.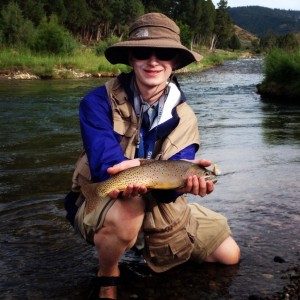 Max with one of the 16+ Yellowstone Cutthroat from the Gardner River. " />
We spent our last night in the front country preparing for the next three nights deep in the Yellowstone backcountry, and enjoying some Dutch Oven peach cobbler. Today we will split into two groups. Half of us will make the long hike into Slough Creek, possibly Yellowstones most famous fishery. There in a beautiful meadow dissected by the meandering spring creek they will have the chance to catch some of the largest Yellowstone Cutthroat in the park. The other group will make a shorter but steeper hike down into the Yellowstone Canyon where they will spend three nights camped at the confluence of Hellroaring Creek and the Yellowstone River. The creek, river, and some nearby lakes all offer up some great fishing opportunities for Cutthroat, Rainbows, and a few Brown Trout.
Wish us luck on our adventures! We will let you know how it goes when we get out of the backcountry on Saturday the 19th.
Tight Lines,
Will