This morning our Yellowstone Adventure hiked out of the backcountry for the last time. It is hard to believe, but we only have 4 days left in the final LFFE Adventure of the summer. We have had an action packed last few days, and are looking forward to some trip highlights still to come.
After two days of catching some trophy trout on Soda Butte Creek, and catching a fresh dinner of brook trout and rainbow trout on Tower Creek our group headed into the backcountry on August 12th. We were all eager to get away from the crowds and catch some beautiful fish.
Tyler took half the group and headed up the Lamar Valley to the confluence of Cache Creek and the Lamar River. Their goal was to catch as many fish as possible with the chance at some big Yellowstone Cutthroat. Mission accomplished. Everyone in the group caught several fish, with some reaching the 50 fish mark! They even managed some fish up to 18 inches. While in the backcountry we celebrated Eli's Birthday with some cherry cheesecake.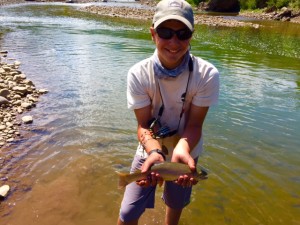 Eli topped his birthday off with this nice cutthroat" />
Meanwhile the rest of the group joined me for the slightly longer hike into Slough Creek.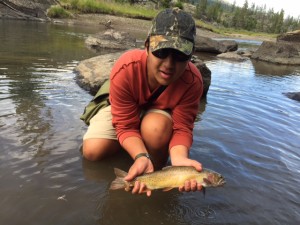 Nick with one of the more colorful Yellowstone Cutthroat we pulled from Slough Creek." />
Slough Creek is not known for its large numbers of fish, but has become famous for its trophy cutthroat. Catching these weary fish is not easy, but is well worth the effort. Our campsite was riverside and gave us the perfect opportunity to accomplish our goal of everyone catching a fish over 16 inches. We fished right up until dark on our final night in the backcountry, but we are happy to report that we reached our goal.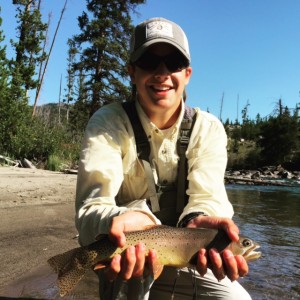 Peter Corelli caught so many fish out of this hole we had to rename it the "OK Corral"." />
After a fast hike out this morning we cruised over to Old Faithful. Our timing was perfect as the geyser went off just minutes after we arrived. From there we headed to our campsite at Grant Village for some much needed showers/laundry.
It is hard to believe that our trip is coming to an end, but we are all really excited for the days to come. Tomorrow we will head back to Jackson, WY where we will volunteer with the National Forest Trail Crew, whitewater raft the Snake River, and float fish the South Fork of the Snake River. All before we wrap things up with a delicious banquet dinner. We will send out our final update on the 18th to let you know how it all went.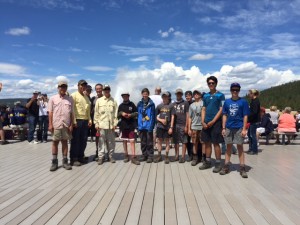 The crew at Old Faithful" />
Tight Lines, Will, Tyler, and Crew