Howdy, from Gardiner, MT. The Yellowstone Adventure has returned from our first backcountry on Grebe Lake with lots of great fishing under our belt.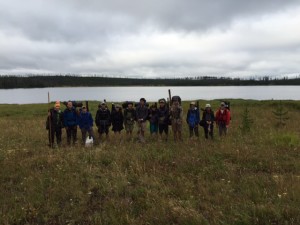 Our group of eager anglers are ready to set up camp and hit the water!" />
After a nice and mellow 3-4 mile hike into our backcountry site we got right to the fishing. We set a lofty goal of 300 fish over 1 and 1/2 days of fishing, so we didn't have much time to waste. It did not take long for the fish to start biting and were catching fish within the first few casts.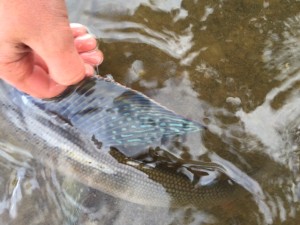 The beautiful fin of a native Arctic Grayling." />
We fished all afternoon and evening with only a short break for dinner and a birthday desert for Aidan. Between the native Arctic Grayling and wild Rainbow Trout we caught well over 100 fish on the first day.
On our second day of the backcountry we woke up to some heavy rain. Lucky, for us the rain did not stop the fish from biting, but it did slow down our fishing efforts. We spent the day fishing during breaks in the weather before heading back to our campfire to warm up. The weather changed once again after dinner as the sun finally poked through. We were blessed with a "golden hour" of action packed fishing before the sun finally set. I am not sure if we reached our 300 fish goal, but we all caught in the double digits and we definitely broke the 250 mark as a group.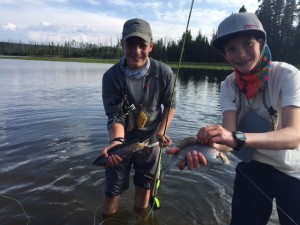 When the fish were looking up we were catching them 2-3 at a time!" />

When the clouds started to clear we were greeted with a hour of nonstop catching." />
Today we woke up to sunshine, and made quick work of the hike back to the van. After setting up camp at Mammoth Springs, we headed into town for burgers, laundry, and some hot showers. The heavy rain yesterday left a lot of the rivers high and the color of chocolate milk. We will do some scouting and fishing in the front country of Yellowstone tonight and tomorrow before we head back into the backcountry on the 11th. We will send out another update before we head in on the 11th.
Tight Lines,
Will, Tyler, and Crew