Yesterday afternoon our group of anglers exited the Yellowstone backcountry for the last time. It was a bittersweet feeling. We were all excited to head back to Jackson Hole, WY, but sad to leave behind lots of biting fish.
For our last backcountry section our group took the divide and concur approach. Half of the group joined me up Slough Creek. After a steep initial climb our hike mellowed out as we followed the creek through a series of meadows. We set up our first nights camp in the second meadow and quickly started catching fish. Stephan was the first to "hook up" and everyone quickly followed suit. Within the hour everyone in our group had caught one of the 15″ plus fish that make Slough Creek so famous. The following day we hiked an additional 4 miles up to the third meadow. As expected the epic fishing continued for the next two days before we made the 9 mile hike out on the last day.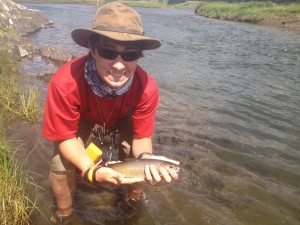 Mac F. with the first of many Yellowstone Cutthroat that ate his hopper on Slough Creek." />
The other half followed Tim down into the Yellowstone Canyon to fish the confluence of the Yellowstone and Roaring Fork Creek. After the 3 mile hike down the canyon they set up camp on a hill overlooking the river. From camp they made the short walk down to a beach right next to a perfect fishing hole. The Salmon Flies were hatching on the Yellowstone so they started casting their big foam dry flies into the seam at the confluence of the two rivers and the fish could not help but rise to their flies.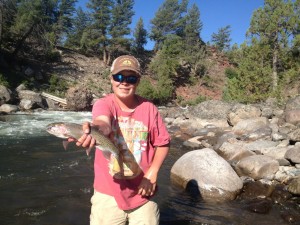 Mac P. with one of the beautiful fish they pulled out of the confluence of Hellroaring Creek and the Yellowstone River." />
Over the next two days they explored Roaring Fork Creek, some nearby lakes, and returned to the hole right in front of their camp. The average fish was a little smaller then on Slough Creek but they managed to pull out some absolute trophies.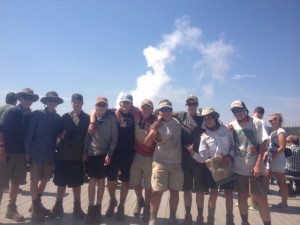 After exiting the Backcountry we made the stop at Old Faithful to watch it erupt." />
It is hard to believe our adventure is already coming to an end. Today we made our way back to Jackson Hole where we will wrap up the final action packed days. After showers swimming and laundry at the Rec. Center we will spend the afternoon whitewater rafting the Snake River with guides from Barker Ewing in Jackson. Tomorrow we will spend the day helping the National Park Service to conserve the areas we have been fortunate enough to enjoy. Finally on the 22nd we will top of an awesome two weeks with a full day float fishing trip on the Snake with guides from World Cast Anglers and a banquet dinner at a local restaurant.
Be sure to check back on the 22nd to see how it all went.
Tight Lines,
Will