The Yellowstone Expedition is back in Jackson WY! The last few days have flown by, and we have three full days of activities planned before our final banquet dinner.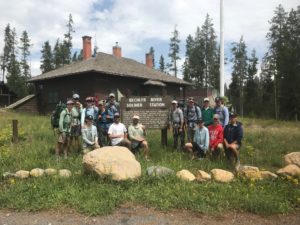 Ready to hit the trail into the Bechler River." />
Four days ago we exited Yellowstone via the West Yellowstone gate, only to re-enter via the Bechler Ranger Station. The Bechler River lies in the south west corner of the park, known as the Falls Corner. The name comes from the abundance of waterfalls as the rivers flow over layers of volcanic rock. There are no roads that enter more than a mile in from the park boundary in this section, making most of the area accessible only via trail. Our goal was the Bechler Meadows where the river meanders slowly and the Grand Teton lurks in the distance. The crystal clear water in this sections is full of deep holes that are home to some of the largest fish in the park. The fat rainbows are easy to spot, but catching the weary fish is not as easy. We needed to put all of the skills we have been practicing to work. After two days of fishing hard we all had shots at fish, and almost all had caught a Bechler River Rainbow.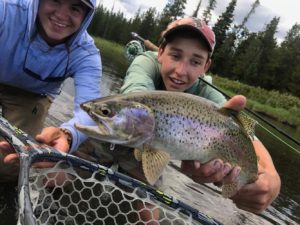 Hard fighting big fish is what the Bechler is known for." />
The day we hiked out of the backcountry we set up camp at Cave Falls campground and fished bellow the Falls. Cave Falls is the widest waterfall in the park, and the giant pool at the bottom is loaded with trout. It was a great place to boost our fish count after the challenging fishing on the Bechler.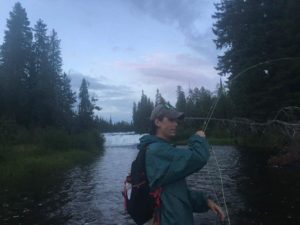 Cave Falls setting the perfect backdrop for an evening of catching rainbows." />
Today we made the drive back over the pass and down into Jackson, WY. The next three days we will be doing service work with the Bridger Teton National Forest, whitewater rafting through the Snake River Canyon, and float fishing the South Fork of the Snake with guides from World Cast Anglers. Where has all the time gone?
Best,
WJ, Patrick, Nate, and Crew