The last six nights in Yellowstone have been nothing short of spectacular. Our group Split into two groups as we took turns heading into the backcountry of Slough Creek for three nights each.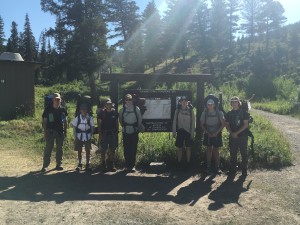 The first group ready to hit the trail in search of some Slough Creek trophies." />
After three days of fishing the Lamar Valley front country the second group was ready to have their shot up Slough Creek." />
With our group split in two we had plenty of water to stretch out along the miles of winding river that make the second and third meadows of Slough Creek so famous. While not in the backcountry the other group has been fishing the notorious Lamar Valley, home to world class rivers like Soda Butte and the Lamar. For six strait days and nights we had nothing but clear blue sky and beautiful weather. The lack of rain left Slough Creek low and clear, but the difficult conditions did not keep our group of experienced anglers from catching some trophy native Yellowstone Cutthroat. In the evenings the wind died down and we had the entire valley to ourselves. Our perfect campsites were made even more magical by the sounds of wolves howling in the distance as we fell asleep.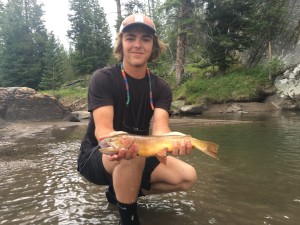 Riley with one of the big and colorful trout that make Slough Creek so famous." />
For the next two nights we will recharge at the Mammoth Hot Springs Campsite along the Gardner River before heading into the Bechler River backcountry. We are all excited to take a shot at some of the huge rainbow trout that call the Bechler home. We will post another update on 7/28 to let you know how it goes.
Best,
Will and Crew