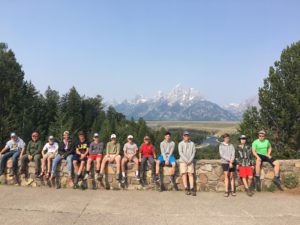 Greetings from Gardiner, MT,
After spending our first day in Yellowstone doing a knot-tying and casting seminar, we were more than ready to start fishing. Our first stop for fishing was at Tower Creek, where a beautiful stream meanders right behind the campsite. The Creek is loaded with Brook Trout as well many Cutthroat-Rainbow hybrids, and each angler was able to catch some fish. That night we made spaghetti with meat sauce, which left us all stuffed and ready for the journey into the Lamar River Valley the following day.
The next morning we arrived at Pebble Creek Campground, a tributary of Soda Butte, which runs into the Lamar River. Half of the group hiked into the upper section of the Creek to fish and spend the night, and the other half hiked in the following day. The front country group fished the Soda Butte, which holds some larger fish, and were able to pull out multiple Cutthroat Trout in the 16" range. In the backcountry, the Creek fished extremely well, and most of us landed dozens of fish. The last group hiked out of Pebble Creek this morning, and we headed to Mammoth Hot Springs for showers and laundry as well as some much anticipated games of ultimate frisbee. The main attraction of Mammoth is the Boiling River, which is a hot spring along the Gardiner River where we will get to soak and soothe our sore muscles. The Gardiner also has a lot of fish, mostly consisting of Brown Trout but also Cutthroat and Rainbows. This section of the Park is right along the Montana-Wyoming border, near the town of Gardiner, MT, where we will treat the campers with Pizza and a stop at the local fly shop. Next on the agenda is Slough Creek, where we will spend a few days fishing both the lower and upper sections of the Creek. This Creek holds fewer fish than Pebble, but the average size of the fish is WAY bigger. We will be splitting the group in half again for the backcountry, with each group getting to spend two nights in the Slough Creek Backcountry while the other fishes the front country sections of Slough and Lamar. We will be sure to send another update when we exit Slough Creek on the 11th. After that, we will be heading to Jackson for the service project, whitewater, and float.