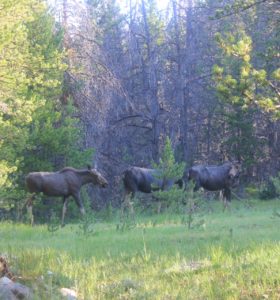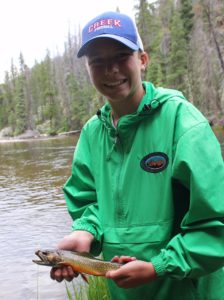 Our journey into the backcountry started early Saturday morning, where we took our time packing up tents and enjoying breakfast burritos. After which we loaded up the van and began the two hour drive into Rocky Mountain National park. The drive to the trailhead was chalk full of wildlife, and the group was able to spot six moose just from the car.
Once we got to the trailhead, we organized our backpacks with food and necessary supplies, and then we were off into the Cache la Poudre River Backcountry. The hike to the campground followed Corral Creek all the way to its confluence with the Cache la Poudre River. At the campground, the group quickly put together tents, ate lunch, then we set up rods and hit the water. Many fish were caught in the section of river we were fishing, which was only about twenty yards from the campground. After a few hours of fishing everybody met back up at the campground for a hefty dinner of chicken stir fry, as we prepared for the upcoming day of fishing.
During our full day in the backcountry, the group split up into two parts. One half of the group fished the section of the river near the campsite for brook trout and some native cutthroat trout, while the other half took a day hike up to one of Colorado's many Alpine lakes to fish exclusively for brook trout. The group that went up to the lake undertook a four and a half mile hike up a mountain to a serene alpine lake which was virtually untouched. Each group ended up catching dozens fish, making for an awesome day on the water.
The next morning on our hike out, we woke up to three moose walking about fifty feet from the groups tents. That was enough commotion to rouse everybody out of their sleeping bags, and once we saw the moose leave, we made oatmeal and rigged our rods for a morning of fishing before the hike out. Half of the group fished the river around our campground while another part of the group hiked half a mile to a nearby creek to fish for cutthroat trout. Both groups were successful in catching fish, which made it hard to pack up and say goodbye to our backcountry site. In total the group landed about 300 fish! After our hike back to the trailhead we got in the van and headed out for some well deserved ice cream.
After ice cream we hopped back in the van and headed for our campsite at Lake Granby, where we were able to take showers. For our next excursion into the park on Tuesday, the group will be volunteering with the Rocky Mountain National Park Service, and then get to fish the Colorado River in the afternoon. Wednesday we will have a half day of guided fishing on the Colorado with Cutthroat Anglers. Wish us luck!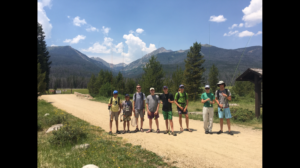 Jack, Dayton, Matteo, and crew